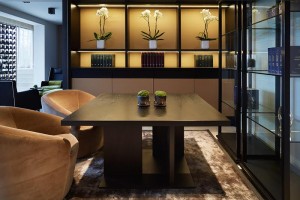 Contemporary furniture is quite stylish furniture that uses modern materials. Symmetry, balance and function are considered paramount. To achieve a sense of symmetry, a grid system is used to place and match items with each other in order to draw attention to them, even in rooms that are not well proportioned and balanced. To make sure that rooms stand out and are less predictable it is important to add one or two items that will find a visual echo within the room, whether through colour, texture or form.
Contemporary furniture and the surrounding space is used in the overall design theme for a person's residence. Frequently, Absolute Interior Decor creates their own beautiful and functional contemporary furniture for their clients. Each piece is carefully thought out, ensuring high quality and workmanship. Space-efficient, multi-functional furniture ideas together with shelving units and clever storage solutions have made our clients' homes not only efficient and functional but truly striking and unique. As an example, one of Absolute Interior Decor client, whose home we decorated, was so particular about the sort of unique cabinet they wanted for their vast collection of CDs and DVDs that they sketched it for us. We searched all over London for just the right kind of wood for this piece to correspond to the rest of Absolute Interior Decor designs. We then commissioned this custom-built, bespoke unit from one of the best woodcrafters in London. Together with the built in wardrobe and storage units, the final design matched our client's needs and desires perfectly.
It is Absolute Interior Decor's core belief that paying close attention to each and every detail is what makes our design projects successful.