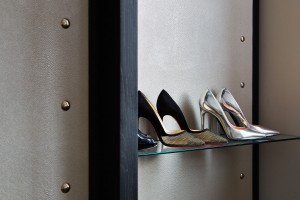 The recent February 13, 2015, Mail Online, from UK's Daily Mail newspaper, had an interesting article titled "Exploit every inch of your home with clever multi-functional furniture" offering creative space saving Interior Design Tips for the home. Absolute Interior Decor's, principal director, Mila Podiablonska, was mentioned, among other top London designers, offering her suggestion Interior Design space-saving tips.
Absolute Interior Decor agrees with other London designers that designs which do a bit of everything are helpful in any home, particularly where space is scarce and storage tight. So if there are times when it feels as though your house is bursting at the seams, or you're looking to find a way to smarten up your space by containing its clutter, there are plenty of ingenious options to consider. Absolute Interior Decor latest designs combine practicality with aesthetic appeal, from clever kitchen configurations to cutting-edge shelving units have been producing sleek pieces that work twice as hard, classic chairs that double up as book storage, streamlined units and even baths with integrated shelving. Many interior design companies, like Absolute Interior Decor, believe that furniture that conceals hidden storage or doubles up on function will maximise your home's efficiency.
Mila Podiablonska, Absolute Interior Decor's principal director, Interior Design Tip, was to choose coffee tables and ottomans that have plenty of space beneath or inside, such as West Elm's Rustic Storage Coffee Table. Below are others' Interior Design Tips that were mentioned:
Interior Design Tip 1. Proportion is important; use large-scale furniture in smaller spaces as it can make a room seem bigger. Buy a few large, high-impact pieces rather than cluttering a space. Bespoke or stand-alone units are a simple form of storage. In open-plan spaces, they can even work as room dividers. Absolute Interior Decor believes in that principle to use fewer but higher impact furniture.
Interior Design Tip 2. Going bespoke will allow for a tailored finish but a good carpenter will also be able to modify bargain buys. Install banquettes or bench seats in the kitchen or living area, which contain drawers and cupboards. Absolute Interior Decor suggests to add practical lighting inside deep kitchen cupboards and plenty of mirrored cabinets operating on push-touch systems.
Interior Design Tip 3. Think about adding a wall of units in your living room. A TV in the middle surrounded by storage is practical and can be softened with the addition of books. Light open shelves and niches for more decorative items. Nowadays, living and working are so tightly blended and technology so compact and transport-able that we can choose to work or be online from the sofa, kitchen or garden. As a result, we need clever storage solutions to quickly and neatly conceal home office or guest room items when they are not required and study areas can be hidden behind bi-folding doors concealing pullout desks. Absolute Interior Decor always takes the above points into consideration in its residential space designs.
Absolute Interior Decor believes that there are many design ideas that offer attractive and comfortable solutions for those who like multi-functional space saving furniture and appreciate the elegant simplicity of contemporary interior design.