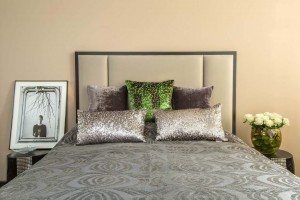 A new spring season has always inspired us at Absolute Interior Decor and we like to share some ideas of springs colour schemes and use of blooming flowers to freshen up any house decor. One of Absolute Interior Decor's favorite shades of yellow, orange and green creates a cheerful mood of sunshine and warming sun. The various tones of these stylish and basic colours are universally appealing. Studies have shown that happy yellow colours fill people with energy and green helps them relax. At the core base of Absolute Interior Decor's designs is to create a calming timeless effect while also enlivening the space. In bedrooms, quite often beige walls will complement sandy natural textured linen bed throws and black wooden flooring will provide a deep, textural base contrast to green velvet cushions, accented with shades of brown, sparkling metal or pearl colours. Don't forget to open your shutters and let natural light abound in your home. It will bring warmth and draw attention to the colour in your home.
Spring is also the time of bloom and so fresh cut flowers are a must. Absolute Interior Decor sets the flowers in beautiful bubble glass vases , which enhances every room. We pay a great deal of attention to style when accessorizing a room with flowers. You can never have enough arrangements as long as you keep them clean and simple.
And lastly, Absolute Interior Decor always wants you to remember that decorating is an attitude, so think about having fun when you consider your spring home decor.