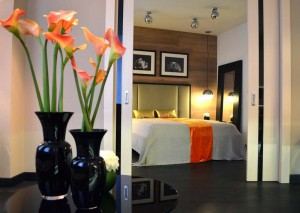 Rentals, either homes or flats, almost always come with restrictive covenants regarding physical and structural changes. Taking all that into account, Absolute Interior Decor helps tenants decorate their rentals with simple, budget saving Interior Design tips that liven and spice up their home with flair, color and character:
Interior Design Tip 1. Accessories such as window treatments, bed throws, pillows and area rugs are an inexpensive way to add color, pattern and charm to a room. Using them softens a room and gives it a comfortable finished feel. Area rugs are great in covering up cold and stark flooring. Window treatments provide the proper light and privacy and always have a positive impact on any room.
Interior Design Tip 2. Upscale mirrors in narrow corridors can be used effectively to enhance space making it appear larger than is. This is especially important in small flats.
Interior Design Tip 3. "Better less than more", our motto. Buy a few large, high- impact bespoke furniture pieces rather than cluttering the room with many.
Interior Design Tip 4. Fresh flowers and plants in beautiful vases placed throughout the house are one of best ways to make the place feel alive and not tired. Even though fresh flowers are preferable, there are beautiful artificial ones that one can buy and use if renter does not have a "green thumb".
Interior Design Tip 5. For additional storage in a room, we like choose coffee tables and ottomans that have plenty of space beneath or inside.
Interior Design Tip 6. Bare walls can easily become a dramatic focal point in any room by hanging, framed paintings, photographs or other art objects. Having art on the walls brings warmth and character to the room.
Interior Design Tip 7. Freestanding open shelving will create different zones in a home and also provide storage for objects, books, etc. that can easily be accessed from both sides.
Interior Design Tip 8. Lighting is an essential part of any room. Colorful accent lamps can add function and character to any room. A little light will go a long way to brighten the space and mood.
Interior Design Tip 9. Don't forget the little things. Aroma candles to add fragrance, a couple of sea shells and corals in bathrooms and fresh white towels.